Laser Hair Removal In Atlanta, Ga
Today, it's chic to be fuzz-free. And laser hair removal is the most popular form of permanent hair removal because it's quick and effective and offers long-lasting results. While other forms of hair removal, like shaving and waxing, require constant upkeep, laser hair removal does not.
Using light or laser energy to remove unwanted hair from pretty much anywhere on the body is relatively straightforward. And, due to new advancements in science, more skin tones can now be treated with technology, making it an even more desirable treatment than ever before.
Led by our board-certified plastic surgeon, Dr. David B. Brothers, Plastic Surgery Centre of Atlanta and Alchemy Aesthetics offer laser hair removal for men and women in Atlanta, Sandy Springs, Buford, Suwanee, Newnan, and Kennesaw.
---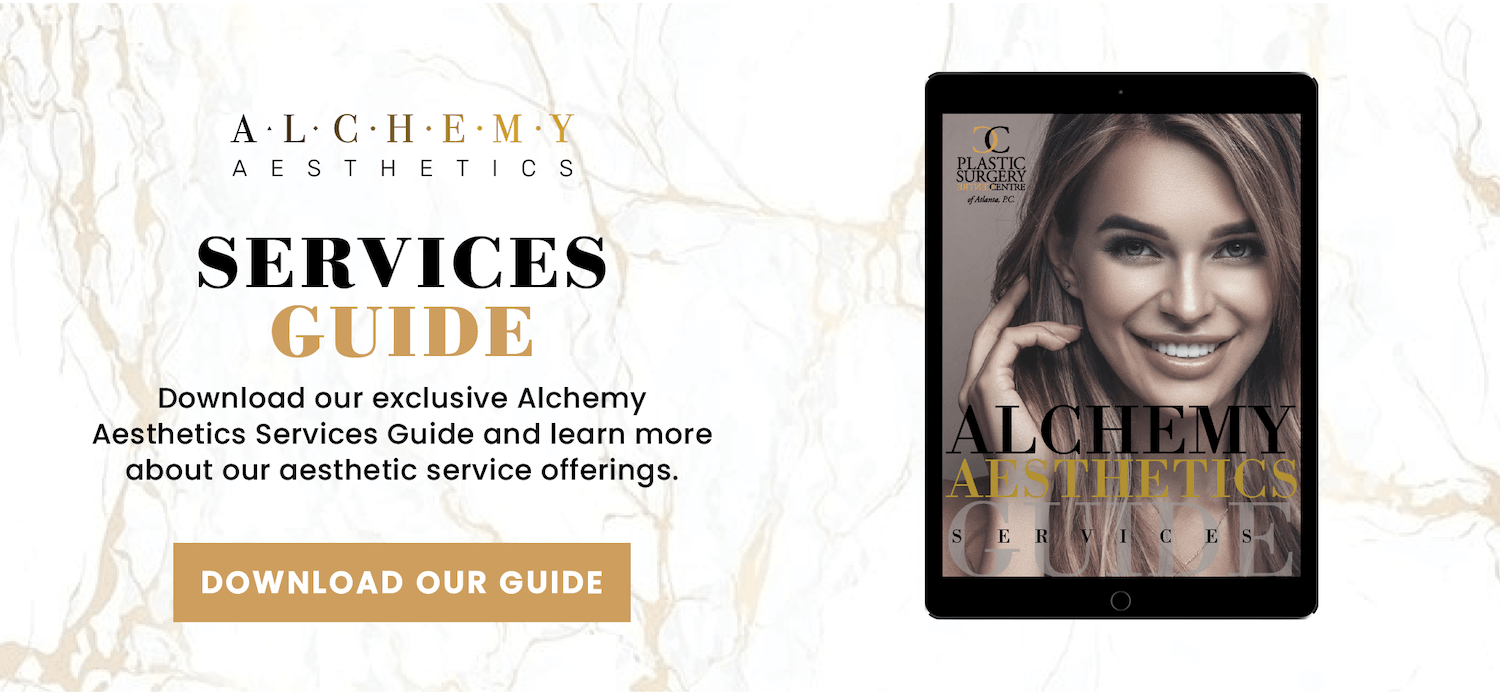 What IS
Laser HAIR REMOVAL
Laser hair removal is a professionally administered treatment that removes unwanted hair on parts of the body like the legs, arms, armpits, bikini line, and certain areas of the face.
Unlike other hair removal methods that either cut the hair at the surface or remove it entirely from its follicle, laser hair removal is more involved and different. The treatment uses specific wavelengths of light absorbed by melanin (the substance that gives color to hair and skin) in the hair to destroy it and its follicle entirely. Thus, only the hair and follicle are affected, not the surrounding skin or tissues.
HoW DOES
LASER HAIR Removal 

WORK?

Laser hair removal removes unwanted hair in select areas by targeting the dark pigment in the hair, which causes it to break down and eventually fall out.

Laser hair removal is a permanent way to remove unwanted hair in all skin tones. In addition, it is painless and safe, making it an ideal solution for individuals who do not want the constant upkeep of shaving, waxing, or other hair removal methods.

Depending on the area being treated and the device used, laser hair removal treatments need to be done as a series of treatments–about 6 to 8 sessions every month are necessary to achieve optimal hair removal and smooth skin. New advancements allow for fewer sessions that are faster and more effective.

During your consultation, Dr. Brothers and his team can provide you with a better understanding of how many treatments will be required.
WHY 
SKIN TONE

MATTERS

There are several different hair removal devices on the market, and for a good reason: not every skin tone and type is incompatible with every machine. This was especially the case in the past, but advancements in science now allow for all skin tones to be treated with laser hair removal. It just comes down to using the appropriate machine for your skin tone.

Laser hair removal works by 'reading' the melanin in the hair. If there is not enough melanin in the hair (as sometimes the case with lighter hair), the machine may not recognize the pigment and effectively destroy the follicle. That's why the right wavelength needs to be used for different hair colors, which will make the treatment a success.

On the other hand, darker skin requires treatment with different settings and wavelengths than lighter skin because darker skin carries more risk for burning and hyperpigmentation when using specific wavelengths to remove hair. That doesn't mean that darker skin can't be treated with laser hair removal–it can. It's just imperative that the right settings and wavelengths are selected.

For this reason, being upfront and honest with your doctor about your ethnic background and how fast your skin tans or burns in the sun is essential.
AM I A CANDIDATE FOR
laser hair removal?
Laser hair removal is effective on pretty much all skin tones and hair colors, but there are still some cases where it might not be the right fit. If the laser is older and can't 'read' the melanin in the hair, it won't be able to effectively stop the growth process.
Those with very light, white, or silver hair may not always be ideal candidates for laser hair removal. That's because the laser can not always accurately detect lighter hair, and the degree of hair removal may not be satisfactory. Think of it this way: the laser cannot differentiate between treating light hair and treating light skin.
Although laser hair removal is now more effective than ever before in treating those with darker skin tones, it's still essential to be aware of potential side effects that can occur, like an increased risk of hyperpigmentation and burns. Oftentimes, the darker the skin, the more treatments that are necessary.
It is vital to seek laser hair removal with a trusted expert, like Dr. Brothers, who understands that not all skin tones can be treated with the same lasers, settings, and wavelengths.
HoW MUCH DOES
LASER HAIR Removal 

COST IN ATLANTA?

Laser hair removal varies from patient to patient and depends on the amount of hair to remove, the type of device used, and the number of required treatments. Following your consultation, the Plastic Surgery Centre of Atlanta and Alchemy Aesthetics team will provide a detailed cost with all applicable fees for Dr. Brothers and his surgical staff, necessary medical supplies, and follow-up care.

Financing is available through CareCredit®. We also accept cash, checks, and most major credit cards.
Laser Hair Removal FAQS
How long do the results last?

The results are permanent, but because the hair grows in a cycle, and not all the hair is always in the same phase of the process at any given time, maintenance sessions are necessary every one to two years.

How many sessions of laser hair removal will I need?

On average, most patients need a series of six to eight treatments every month (the duration of a session depends on the area to treat) to reduce hair growth. But, of course, everyone is different, and some people may require more sessions. Make sure to factor in annual or bi-annual maintenance sessions, too, depending on the rate of hair growth.

Does laser hair removal hurt?

Laser hair removal is often compared to the feeling of having a rubber band. We use numbing cream to make the treatment more comfortable.

What areas are suitable for laser hair removal?

Laser hair removal can be done on almost all body parts, but some may not be worth it. For example, tiny hairs around the mouth or nipples may not be as responsive as thicker hairs in larger areas.

Is there any downtime or recovery with the treatment?

No. Laser hair removal is a relatively downtime-free treatment. You can return to work and resume your regular activities after a session. However, some patients experience minimal redness or a few bumps after a session, but these resolve fast. It is essential to avoid the sun as much as possible and always wear sunscreen.