Posted July 17, 2015 in Blog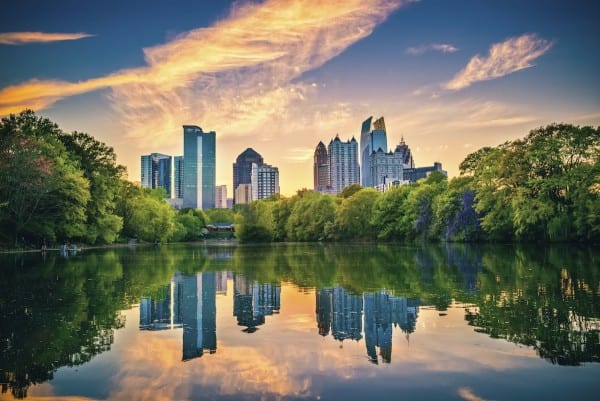 Looking to take your mind off the heat? Why not check out some of the many upcoming summer festivals in Atlanta and surrounding areas? This comprehensive 2015 Atlanta festival calendar is a great place to learn about the large variety of food, cultural, and arts festivals happening in the area.
If you're looking for a shortlist, we've highlighted a few of our local favorites you won't want to miss this summer!
JULY: FUN, SUN, & CINEMA
What isn't to love about racing down a 1,000 foot water slide? Slide the City temporarily takes over downtown Decatur on July 25th for a day of splashing, live music, and plenty of tasty food and drinks. Perfect for kids and the young at heart—just don't forget to bring an inflatable tube!
If you're an indie film buff, you'll want to mark your calendar for the Gwinnett Center International Film Festival. The festival lasts from July 31st through August 2nd, and the weekend is jam-packed with a blend of local, national, and international films; Q&A sessions with filmmakers; and educational workshops.
AUGUST: VISUAL ART + TASTY TREATS
Delight your senses on August 15th through 16th at the 6th annual Piedmont Park Arts Festival, where you'll have the opportunity to view an array of artworks and interact with artists. Painters, photographers, sculptors, leather and metalwork, glass blowers, jewelers, and more will take over beautiful Piedmont Park to showcase their works amidst live music, festival foods, and play areas.
To get your jerk chicken and steel drums fix, head over to Jonesboro on Saturday, August 22 to check out the Atlanta Caribbean Cultural Festival. You can enjoy a variety of traditional food, music, and crafts, all while supporting the Caribbean Association of Georgia.
SEPTEMBER: BALLOONS & BAKLAVA
September brings with it a unique festival with wide appeal: the 17th annual Sky High Hot Air Balloon Festival is taking place September 4th through the 6th. Whether you hitch a ride or just want to watch, the skies will be filled with beautiful, colorful balloons for your enjoyment. But there's plenty happening at ground level as well, with live music, a classic car show, pyrotechnic skydiving, and a variety of additional displays and activities.
If hearing "souvlaki" and "loukoumades" makes your mouth water, be sure to stop by the Atlanta Greek Festival between September 24th and 27th. Go ahead: go back for seconds and get comfortable while watching traditional Greek dance performances with award-winning dancers or listening to live music.
What are some of your favorite local festivals? Let us know below and maybe we'll see you there!