Posted January 28, 2016 in Blog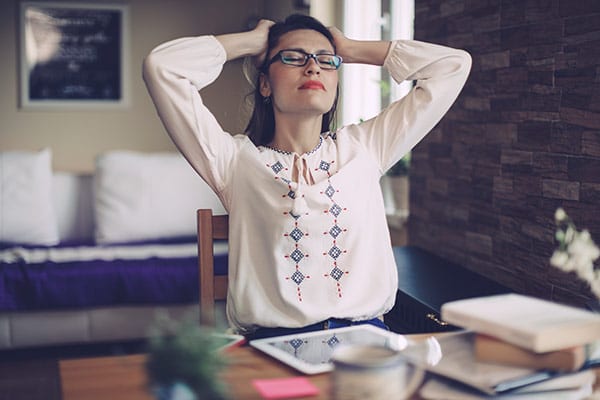 The winter season can be an incredibly stressful time, particularly when you're trying to get back into the groove after the holidays. To help out, we've gathered some great stress relief tips for after the holidays to ensure you take time for yourself and have a restful season.
1. ENJOY SOME SUNSHINE
During the winter, colder temperatures typically keep many of us indoors. Unfortunately, all that time inside can lead to Seasonal Affective Disorder (SAD), a winter-time condition that impacts millions of American every year. If you're feeling particularly stressed out, you may be able to stave off the winter blues by going outside and soaking up some extra vitamin D!
Tip: Bundle up and plan an afternoon hike with family or friends. If this isn't an option, consider purchasing a daylight lamp to mimic the sun while staying cozy inside.
2. MAKE MOVEMENT A TOP PRIORITY
It's easy to let craziness around the holidays impact your exercise routine—and it can be difficult to get back to it once Christmas has come and gone. But skipping the gym a few times won't just impact your waistline; missing out on exercise can negatively affect your moods and stress levels too. So, keep movement a top priority. Yoga classes are also a great way to help calm the mind and elevate the mood. Don't have time to get to the gym or a class? Simply walking can make a big difference in your mood: the steady rhythm has a calming effect, can decrease anxiety, and improves circadian patterns.
Tip: A 30 minute, brisk walk each day can improve your health and overall attitude.
3. STOP AND SMELL THE CITRUS
Studies show that certain citrus aromas boost feelings of well-being and alleviate stress by increasing levels of norepinephrine, a hormone that improves mood. If you're starting to feel anxious or that your stress is building up, peel a fresh orange or tangerine for yourself or the kids. A twist of lemon or lime with your glass of water is always nice too!
Tip: To make your home smell great and keep you feeling relaxed, bake orange and lemon peel in the oven at 150 degrees for a few hours. Your house will smell divine as it fills with this calming aroma.
4. WHEN THE PRESSURE IS ON, FIND THIS PRESSURE POINT
Between your index finger and thumb, you'll find a fleshy areas known as the "hoku" spot in traditional Chinese medicine. When firm pressure is applied for 30 seconds, it can help reduce the stress in your upper body.
Tip: When the holidays start to fill you with negative energy, give that part of your hand a squeeze followed by a deep breath.
5. WHEN IN DOUBT, USE HONEY
Not only is honey a healthy for you, its natural sugars have also been shown to provide an instant boost in mood! Research also shows that antioxidant and antibacterial levels in honey can improve your immune system, which is a great added bonus for keeping winter colds away.
Tip: Use honey instead of sugar in your coffee and tea. It will taste great and make you feel even better.
6. UNPLUG FROM ALL DEVICES
It can be difficult to avoid stress when we have constant stimulation and information that is accessible with the simple touch of a finger. However, persistent notifications, incoming text messages, emails, and calls are very distracting. On top of that, these alerts make your adrenaline pump and leave you in a fight-or-flight mode, greatly increasing stress levels.
Tip: Limit your phone activity to certain times of the day when you are alone. When you are with friends or family, turn off the devices.
7. HOW TO RELIEVE STRESS YEAR ROUND: TREAT YOURSELF
It's highly important to make sure you are taking care of yourself. Try finding simple ways to relax, like snuggling up to a good book, taking a bath infused with lavender-scented bath salt, or, better yet, treating yourself to a customized facial with one of Dr. Brothers' talented aestheticians at the Plastic Surgery Centre of Atlanta!.
Tip: Put a "me day" on the calendar this season. Make sure everything done that day benefits your spirit.